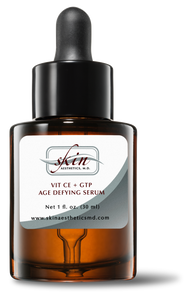 C E + Green Tea Polyphenol (GTP) serum is a high potency vitamin C formulation that visibly improves wrinkles, brightens skin's complexion, and protects against free radical skin damage.  
This 20% Vitamin C complex, paired with a potent proprietary antioxidant system and stabilized novel delivery system, delivers daily defense against environmental damage, aids in collagen health, improves skin density, evens skin tone, minimizes redness, calms and rejuvenates skin, enhances skin smoothness and radiance, supports the skin's microbiome, and protects against fine lines, wrinkles and loss of firmness by combating free radical damage.
Key Ingredients
Vitamin C (ascorbic acid), Tetrahexyldecyl Ascorbate, Green Tea Polyphenols, Ergothioneine, Apigenin, and Vitamin E
Hypoallergenic - Non-comedogenic 
Normal to Oily Skin
1 fluid oz. dropper
Morning: Dispense 3-4 drops for full face and massage in gently with fingertips 
Mild lavender smell that is very pleasant and soothing.