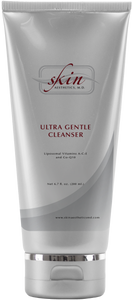 Non-Glycolic formula supports Glycolic acid with added hydration
Elite Ultra Gentle Cleanser, a perfect complement to Glycolic Acid therapy, effectively cleanses while delivering moisturizing and skin softening benefits.  This foaming, non-drying cleanser is enhanced with liposome-encapsulated Vitamins A, C, E, CoQ10 and Green Tea Extract to help quench free-radicals and calm and soothe the skin.
• Contains Vitamins A, C, E, Green Tea and CoQ10
• Glycerin, a powerful humectant to moisturize and soften skin
• Light lavender hypoallergenic fragrance
Great for all skin types, especially sensitive skin
Apply a moderate amount to wet skin and massage gently. Rinse clean with lukewarm water and towel dry.
Available in 6.7 oz pump bottle
Paraben, Soap and Alcohol-free
Non-comedogenic (will not clog pores)
Ingredients:
Vitamins A,C,E, CoQ10, Green Tea Extract, Glycerin