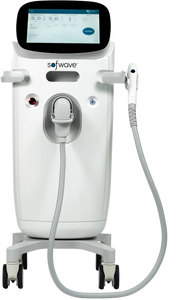 Sofwave is a noninvasive skin rejuvenation treatment that's FDA cleared to:
lift the eyebrows

firm and lift lax tissue on the neck and under the chin

improve the appearance of facial lines and wrinkles

reduce the appearance of cellulite
It uses high-intensity fractional ultrasound to heat the tissue in the mid-dermis (the lower layers of skin), which triggers the body's healing response and stimulates new collagen production.
The treatment comes with no downtime and no reported side effects.
Most people need only a single treatment session to see an improvement, though as with similar treatments that rely on new collagen growth, results can take up to three months to appear.