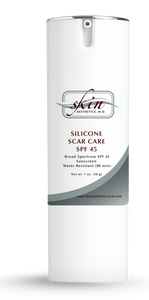 Silicone plus keratolytic Allantoin provides hydrating and softening benefits while potent antioxidants soothe the area and help prevent visible redness. Micronized Zinc oxide provides sheer, mineral UVA/UVB SPF 45 sun protection to help prevent visible darkening of scar tissue and loss of elasticity. Natural proteolytic enzymes remove dead skin cells and soften the epidermis. Green tea polyphenol and vitamin E, potent antioxidants, quench reactive oxygen species and prevent damage from free radicals.  
Water/sweat resistance for 80 minutes
Fragrance-Free
Instructions for use: Apply and spread evenly over the affected area 20 minutes before sun exposure. Start using 2 weeks after surgical procedure. Can use 2-3 times daily.
Patients report seeing less visible darkening of scar tissue, and smoother skin at the excision site. 

Water-resistant for up to 80 minutes.  Apply liberally before sun exposure. Reapply after swimming.
1 oz. airless pump
Key Ingredients: glycerin, silicone, bromelin, papain, green tea polyphenols, vitamin E, allantoin.