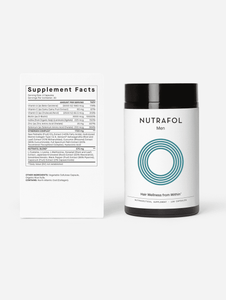 Improves hair growth, strength and thickness. 75% saw visible reduction in shedding after two months. Clinically effective nutraceutical. Natural and 100% drug free. 
Nutrafol contains a clinically effective dose of Saw Palmetto, which naturally lowers conversion of testosterone into DHT (a hormone that shrinks hair follicles and leads to progressive hair thinning) without sexual side effects.
Nutrafol is formulated with medical-grade ingredients to help with poor hair health (growth, quality and thickness). This multi-targeting supplement also assists in reducing stress and fatigue, improving sleep and focus all while promoting an overall feeling of wellness. Nutrafol addresses key triggers of poor hair health including stress, DHT, free radicals, micro-inflammation, and compromised nutrition. 
Bio-optimized botanical ingredients (patent-pending Synergen complex) along with a mix of vitamins, minerals and amino acids (proprietary Nutrafol blend), serve as the building blocks of healthy hair growth.
CONTAINS: 120 CAPSULES
DOSAGE: 4 CAPSULES daily taken with a meal containing healthy fat
Shipping available on the 3 month kit only.