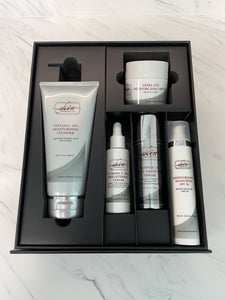 This gift box regimen is for someone looking to moisturize and brighten their skin while delivering important anti-aging ingredients to their skin. It is filled with dermatologist-approved products.  
* Glycolic 10% Moisturizing Cleanser with Liposomal Vitamins A-C-E and Co-Q10
* Vitamin C 20% Brightening Serum: Apply in the morning after cleansing skin
* Moisturizing Sunscreen: Broad Spectrum SPF 50 with Zinc Oxide - apply last in the morning
* Retinol 3x Gentle Smoothing Serum - use at bedtime after cleansing skin.
*Ultra-Lite Moisture Dew  - adds the finishing touch to lock in moisture after you have applied your Retinol 3x.
$37 Savings, when purchased as a kit! 

A nice gift for yourself or a loved one.