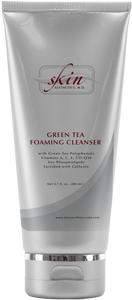 A luxurious, revitalizing cleanser that deep cleans and replenishes the skin. Rich in antioxidants and natural botanicals, this cleanser gently cleans, nourishes and restores, resulting in healthier more radiant looking skin.  Ideal for all skin types, this soap-free foaming cleanser contains a special antioxidant formula of green tea, white tea, chamomile extract, Caffeine USP and cucumber.
• Vitamins A, C, E, Green Tea, White Tea and CoQ10 assist in minimizing free radicals
• Enhanced with Caffeine USP for additional antioxidant benefits
Apply a moderate amount to wet skin and massage gently. Rinse clean with lukewarm water and towel dry.
Available in a 6.7 fl. oz. bottle with a flip cap
Paraben, Fragrance, Gluten, Soap and Alcohol-free
Non-comedogenic (will not clog pores)
Ingredients:
Green Tea Polyphenols, Caffeine USP, Vitamins A,C,E, CoQ10, Panthenol, Botanicals.