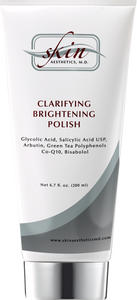 Clarifying Brightening Polish refines skin gently and effectively. It works in harmony with skin to accelerate its natural renewal process. This rich, creamy formula mildly cleanses the skin without stripping it of its natural moisture content.

• Gentle facial exfoliator with bio-friendly microbeads
• Helps to regulate oil, purify and minimize pores
• Provides antioxidant protective coverage
• Nourishes and hydrates the skin
• Reveals fresh and pure complexion
• Improves skin
• 10% Glycolic and 0.5% Salicylic Acids, Arbutin and bio-friendly microbeads gently slough off dull, damaged skin to improve skin clarity and radiance
• Arbutin, a natural skin brightener
• Green Tea Polyphenols, Vitamins A,C,E, Bisabolol and CoQ10 calm and soothe skin
• Helps to regulate oil, purify and minimize pores
Suitable for all skin types
Instructions for Use: Apply a moderate amount to dry skin and massage gently into the skin.  Wet hands and continue to gently massage in a circular motion for 1 to 2 minutes.  Rinse off thoroughly with lukewarm water and towel dry.  Recommended for use 2-3 times a week or as directed by your doctor.
Available in a 6.7 fl. oz. tube
Gluten, Paraben, Oil and Sulfate-free
Hypoallergenic fragrance
Non-comedogenic (will not clog pores)
Key Ingredients: 10% Glycolic Acid, 0.5% Salicylic Acid, Arbutin, Bisabolol, Vitamins A,C,E, Green Tea Extract, CoQ10, Chamomile Extract