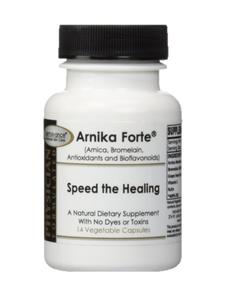 Arnika Forte vegetable capsules work within the body to decrease bruising and swelling.
Each capsule contains:
100mg Broelain (proteolytic enzyme to help dissolve the bruise by digesting the proteins within the bruise)

100mg Arnica Montana 30x (anti-inflammatory agent)

Bioflavonids (helps strengthen the capillary wall, which reduces the extent and duration of bruising)

240mg Vitamin C (antioxidant)
The synergistic effect of these ingredients together at homeopathic strengths has been shown to speed the headling time up to 50%. The vegetable-based capsules are completely lactose-free (unlike other Arnika Montana products) making them easy to digest and able to be quickly absorbed into your system.
Take one capsule, twice daily for seven days.